Bok Choy is one of my favorite vegetables. It has its own spiciness that is complimented by the sweetness of the sauce in this recipe.
I like to serve this with grilled fish and steamed brown rice or Quinoa. For variety, I sometimes add a small amount of lemon zest just before serving.  Enjoy ….

Spicy Bok Choy in Garlic Sauce
Ingredients:
1 pound bok choy

1 tablespoon vegetable oil

1 tablespoon sesame oil

1/4 cup water

1 teaspoon grated fresh ginger root

2 cloves garlic, minced

1 tablespoon oyster sauce

1 tablespoon light soy sauce

1 tablespoon agave

1/8 teaspoon crushed red pepper flakes (optional)
| | |
| --- | --- |
| 1. | Trim off the ends of the bok choy and chop, keeping the white parts separate from the green as they will need to cook longer. Rinse and spin or pat dry. Set aside. |
| 2. | In a small bowl or cup, stir together the vegetable oil and sesame oil. In a separate larger bowl, stir together the water, ginger, garlic, oyster sauce, soy sauce, brown sugar and red pepper flakes. Set this aside. |
| 3. | Heat the oil in a large skillet or wok over medium-high heat. Add the bok choy stems first; stir fry for a few minutes or until the pieces start to turn a pale green. When stems are almost cooked, add the leaves; cook and stir until leaves are wilted, 1 to 2 minutes. Remove from the heat and transfer the bok choy to a serving dish. Pour the sauce into the skillet or wok, and set over medium-high heat. Cook, stirring constantly, until sauce has thickened slightly, about 3 minutes. Pour over the bok choy and toss lightly to coat. |
How to cook bok choy
Ingredients:
1 1/2 pounds bok choy or baby bok choy
1 1/2 tablespoons canola, vegetable or peanut oil
1-2 cloves garlic, finely minced
1 teaspoon grated fresh ginger
3 tablespoons broth or water (or 2 tablespoons broth/water + 1 tablespoon wine)
1/2 teaspoon sesame oil
Start by trimming the bok choy stem off – don't trim too much – just the end. Cutting the thick stem off will ensure that the bok choy cooks evenly. Separate out the bok choy leaves and rinse under running water.
But leave the tender baby that's in the middle of each bok choy! That's the golden nugget! Finely mince garlic and grate fresh ginger with a microplane grater. Grating the ginger helps break up the tough fibers! (and yeah, sometimes when the ginger is nice and fresh, I don't even bother peeling off the paper-thin skin)
Place wok or frying pan on your stove and pour in the cooking oil. Add the garlic and ginger. Turn the heat to medium-high. Let the ginger and garlic gently sizzle in the oil. When the aromatics become fragrant and light golden brown, add the bok choy leaves. Toss with tongs to coat each leaf with the garlicky, gingery oil.
I really mean it! Toss, baby, toss! Stir! Faster! You only have like 15 seconds of tossing time! I am super wok-stirring queen!
Pour in broth, water or wine over the bok choy. Immediately cover and let cook for 1 minute. Season with a drizzle of sesame oil on top.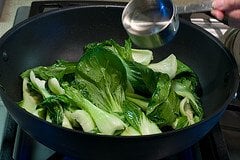 That's it! I hope you try this method – it works for any type of vegetable, like Napa cabbage or broccoli. For thicker vegetables (like broccoli), increase the steaming time by another minute and maybe add a bit more water/broth.
Oh yeah, why tongs instead of a standard wok chan (spatula)? Because it's easier to use the tongs to toss, flip and turn when dealing with delicate vegetables.
Nutrition Information for Bok Choy:
The following nutrition information is for one serving of bok choy. That would be about one cup shredded bok choy, or 70 grams. This general information is for any variety of raw bok choy.
Macronutrients:
Water: 66.72 g
Calories: 9
Protein: 1.05 g
Carbohydrates: 1.53 g
Fiber: 0.7 g
Sugars: 0.83 g
Total Fat: 0.14 g
Saturated Fat: 0.018 g
Monounsaturated Fat: 0.011 g
Polyunsaturated Fat: 0.067 g
Cholesterol: 0 mg
Micronutrients:
Calcium: 74 mg
Iron: 0.56 mg
Magnesium: 13 mg
Phosphorus: 26 mg
Potassium: 176 mg
Sodium: 46 mg
Zinc: 0.13 mg
Vitamin C: 31.5 mg
Thiamin: 0.028 mg
Riboflavin: 0.049 mg
Niacin: 0.350 mg
Pantothenic Acid: 0.062 mg
Vitamin B6: 0.136 mg
Vitamin B12: 0 mcg
Folate: 46 mcg
Vitamin A: 3128 IU
Vitamin E: 0.06 mg
Vitamin K: 25.1 mcg
Phytonutrients:
beta Carotene: 1877 mcg
beta Cryptoxanthin: 0 mcg
Lycopene: 0 mcg
Lutein and Zeaxanthin: 28 mcg
Abbreviations:
g = gram
mg = milligram
mcg = microgram
IU = International Unit