Although a product may not be for "everyone", many of our clients are receiving numerous benefits and give testimonials to that fact the below products have worked for them.  We urge you to do your own research.
NUTRITION

Premier Research Labs is known internationally as the pre-eminent manufacturer of excipient-free, premier quality nutraceutical formulations, super food concentrates and the world's first producer of cellular resonance products that are capable of restoring quantum coherence to the body's inherent biofield.
ESSENTIAL OILS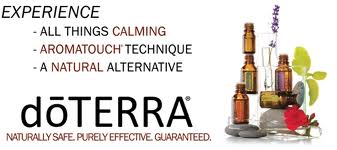 dōTERRA™  Essential Wellness is a company founded on a wellness philosophy of healthy   lifestyle choices and informed proactive participation in one's own healthcare   alternatives. dōTERRA's Certified Pure   Therapeutic Grade™ essential oils and other wellness products are   specifically formulated to support a wellness philosophy of eating right, exercising, resting and managing stress, and reducing toxic load. dōTERRA also   teaches informed self care alternatives and encourages people to take a   proactive role in their medical and health care. Our mission as a company is to teach   people to live more healthy, productive lives and to share with others the blessing of a lifetime of wellness.
SKIN CARE
NeriumAD Age-Defying Treatment is a night cream developed from the patent-pending extract of the Nerium oleander plant. NeriumAD contains the most effective age-defying ingredients, chosen for both their individual and synergistic benefits. These premium ingredients are blended at optimum levels to nourish your skin and provide real results.
WATER
We offer the finest water purification and energizing systems available today from various manufacturers.  Their living water systems provide clean, healthy, and natural water from any water source.  Come in today to try some for yourself.
Reverse Osmosis: Check out Discount Water Softners for home installations.
We also sell bottles of water and FREE refills, so bring your own container or pick up a new bottle.  We look forward to seeing you at one of our educational workshops regarding water quality.
Notice: We are certified holistic practitioners, not medical doctors. We do not diagnose, prescribe for, treat or claim to prevent, mitigate or cure any human diseases.